#111 – My Doc is a Butt Munch
on
January 29, 2012
at
8:50 pm
Just a brief update from Friday's workout.  This was supposed to go up Friday night, of course, but I was going for a look that I never quite found… such is life.
So, as I mentioned, I woke up Friday morning sore and ill-disposed to go to the gym, but as I said I'd do it, I did it.  You either make a choice or an excuse, right?  So hit the gym I did.
Of course, as I had awoke before 4am, I was at the gym for about an hour before I realized that I never brushed my teeth…
…but it was only 15 minutes before I realized that I'd forgotten my water bottle…
…and about that same amount of time that I realized I was still wearing my glasses rather than my contacts…
Have I mentioned how much better contacts are at the gym than glasses?  Glasses smear, slide and fall off… contacts… don't.
So, I realized I was wearing glasses when they fell off.  Realizing they would just get in the way, I completed my workout in a blurry haze…
…which kinda eliminates one of the warning signs that you're stroking out, but what can you do…
…and I was puffing to hard to be able to carry on a conversation, so there goes blurred speech…
…and if you're not tasting blood, you're not working hard enough…
…Hey!  I think I just realized why they keep taking your blood pressure! 😉
In any case, the workout: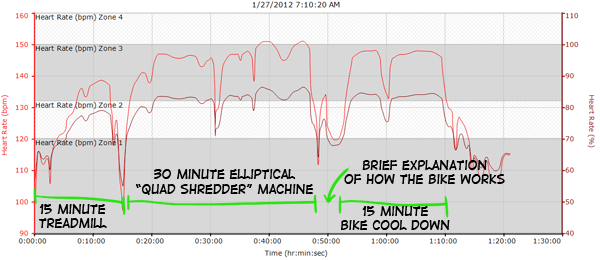 The first fifteen minutes on the treadmill were not hard, but no fun either.  It did manage to loosen my leg muscles up enough that they no longer screamed in pain.  After the treadmill, I hit the water fountain and then the elliptical for 15 and then the water fountain and then another 15 on the elliptical.  I then tried the bike for the last 15.  Once I was clued in on all the buttons, I started the spin.  The bike didn't really fit, but it kept my heart rate up which is what counts.
After that, I headed in to work (and the shower) and spent the next 36 hours whimpering in pain.  However, this morning dawned relatively pain-free, and I'm all set to hit the gym again in the morning.  Ain't it just the life?!?