#119 – Baby, I'm Cold Inside…
on
February 24, 2012
at
12:08 pm
The chest strap for the heart rate monitor is the worst!  Brrrrr….
So, I know I said I'm not going to update the ticker until after this program is complete, and I won't, but I did want to share that someone seems to have flipped the switch this week, because I am finally past the plateau and flying, flying, down the other side!  It feels like I've broken through something… in a good way!
Food Intake:
Breakfast – Nada
Lunch – Subway 6″ Tuna on Wheat
Recovery snack – 1 pickle and 1 hershey mini
Dinner – Morningstar Farms fake rib product and Celery Root Blender Soup
So… Thursday stunk!  I was in a hurry, so I was going to grab food at work (I keep yogurt and oatmeal on hand at all times), but things started bursting into flames from the moment I walked in the door, so that never happened.  Around lunch, I realized the broken machine was going to stay broken, so I needed to get over to NCRC and get the equipment going over there.  No problem as there is a Subway on the way, and I'll just grab a sammich there.  In a flash of genius, I thought "Hey!  I'll get the tuna and have them add mustard, and that will be very healthful."
It never once occurred to me that they'd already have mayonnaise mixed in…
So… more fat than I needed but still below 500 cals and stuffed with veggies, so no worries.
Dinner was good.  The sauce on the Morningstar farm rib is too sweet, but it's a pretty good product.  Could use a bit more bite, but I'm not complaining.  The soup was brilliant.  I started with a recipe for braised celery root, and decided at the last minute to make it soup.
1 Diced celery root
1/4 teaspoon cumin
1 tsp brown mustard
1/4 teaspoon kosher
2 jalapenos
1/4 sour cream
2 tsp minced garlic
1/4 tsp black pepper
a wee bit of cayenne (depending upon your tolerence)
1 cup broth (chicken or veg)
1 cup water (optional, but I wanted thinner as I was chilly and a thinner soup seems to warm me more)
Drop in blender.  Blend on high for 8 minutes (or a lot less if you have a blendtec or vitamix).
Yumm-O!
Exercise: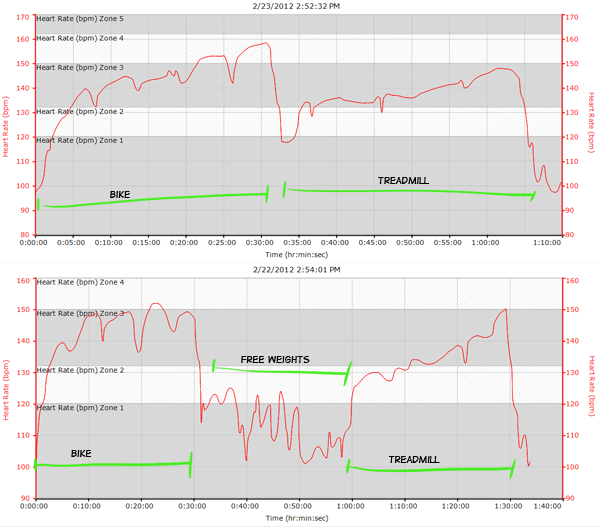 The conversion of myself to a gym rat continues apace.  I was exhausted Wednesday, and the chart shows it.  I got home that night and had a local grape gatorade and a pickle, and that seemed to have helped a lot.  I have been sweating out an arse load of salts, so it may have been time to replenish.