#132 – Together at Last…
on
April 15, 2012
at
5:29 pm
So… the Big House Big Heart run was today.  I was pretty sure that I wasn't going to be running any of it as it was BUCKETING down rain from the time I woke up until the time I arrived at the Stadium.  It did manage to slack down to a generally annoying drizzle as I waited for the start, but considering my general agility level, running in the rain seemed like a bad idea…
… and I'm… what?… three weeks into my training for a 5k?  Clearly not ready yet…
…but it did stop raining as we took off, and well… it's hard not to run when so many (thousands) are running, so I went with the run a minute/walk a minute… run a block/ walk a block methodology throughout.  Figure I managed to run at least a mile, but well shy of two.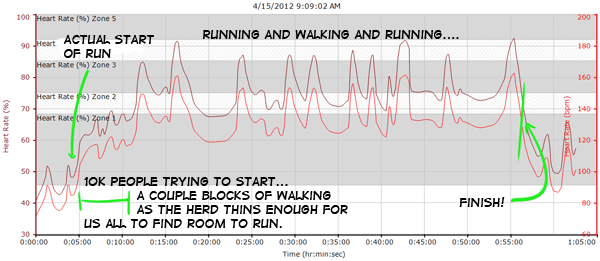 It was fun though.  It's always fun when your doing some sort of athletic event with so many other people.  I'm more used to the cycling events where I can hold my own, but this was good too.  I'm sure I'll be doing many more of them, and of course, my first "post-training/you have to run the whole thing" will be the Dexter-Ann Arbor run.  That's the one where I'm trying to raise a few quid for Motts Children's hospital (and lose a few stone from my arse).  Have you considered tossing a few pence towards a worthy cause?  If so, click here.  I (and the children) would be ever so grateful!
As I stare at this picture, I notice that I am wearing an impossibly baggy shirt (2 sizes too big at least) and standing in a pose that absolutely hides my torso from any critical dietary analysis.  It's not actually intentional, but it is what it is.  Chris keeps asking to see a pic, so here you go.  Still fat, but melting bit by bit.  I'm a bit concerned about the growing sag of skin under my chin.  A gobbler is never a good look.  Going to have to figure out how to tighten that up.  Scotch tape, maybe?