#141 – If the Suit Fits…
on
May 12, 2012
at
11:17 pm
It is probably helpful at this juncture if I point out that my wife works for a local high school and will, in fact, be chaperoning the prom.  I was going to be able to skip the duty if I couldn't squeeze into my tux.
Sadly, I could do so without the squeezing.  In fact, I'm wearing a smaller shirt than the last time I wore it.  So… prom…
I've not had a lot of luck with prom… for my prom, the girl I was dating wanted to wear a tux rather than a dress.  I was… against it.  There was a girl who wanted to go with me, but I was informed by my parents that only a… foolish individual… would waste hard earned money on the prom… especially with someone who you weren't actually dating (actually, on reflection, that was probably good advice.  Best not to go on a date with someone when you have an actual girlfriend, eh?).  On the other hand, the relationship ended shortly thereafter, and we've both moved on to bigger and better things.
I did return to high school the next year for my girl's prom.  It went badly… the relationship was hurtling towards an untidy conclusion… I was just unaware of it… but again… bigger and better things…
So now… prom… with Laurie… it sends a veritable chill up one's spine, does it not?!?  However, Laurie deserves a night out in fancy dress with a sharply, yet awkwardly, dressed man at her side.  Since we're the chaperones rather than actual attendees, I'm sure there won't be any sort of karmic shenanigans in play… just the overwhelming feeling of being the old folks amongst the kids… yay…
But on the plus side, when I went to try on the tux, I actually started at my largest tux shirts and had to work my way down.  In fact, I had to donate 4 tux shirts (and a couple dress shirts) because they were simply too big.  Go figure…
But prom… I shudder to think of it… Does one still buy a corsage when he is a chaperone?
I opted to run to work on Friday…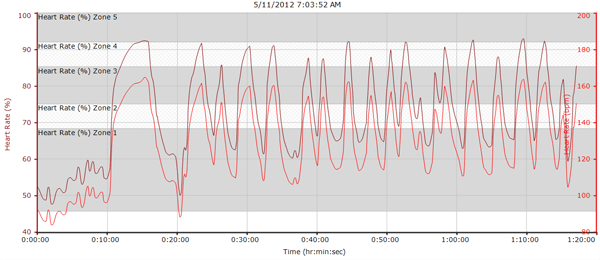 The first thing one will probably notice is that I got over it and just ran through Packard.  I believe my thought was "Screw 'em… I'm here to run, so I'm running!."  So there was that.  Keeping the pace (intervals by block — running and walking) wasn't too hard (except when I pooched a curb and kinda twisted something betwixt the top of my foot and my ankle), but I long for the day when I can just run it straight rather than a series of run – gasp – run – gasp…
Oh… and I shaved another 10 minutes off of my time… you know… cuz I ran Packard rather than sheepishly walking it…