#143 – Sometimes It's Like That…
on
May 21, 2012
at
11:22 pm
So I haven't been in hiding… I've been in recovery… but I'm getting ahead of myself…
First, here's that heart chart I promised from the the Skyline 5k: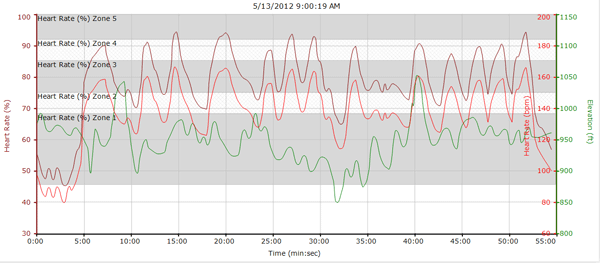 Pretty typical… it was very rolly in the hills, but nothing unusual.  I let my legs rest Monday and hit the road to run in to work on Tuesday: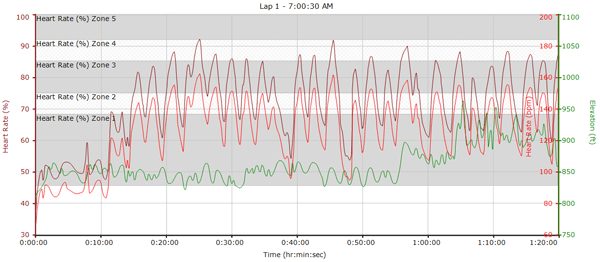 Nice little chart… you can see that the only real hills aren't until the end of my run near campus.  Do you see that nice pause just after the one hour mark?  I took a dive on the pavement… wasn't the sidewalk's fault of course… just neglected to inform gravity that I meant to continue moving in a forward direction, so gravity did what it does, and I went down hard on my knee…
No biggy… I hit and rolled… scuffed the gps a bit and bloodied my knee, but no big deal.  I carried on with my run… lots of stares towards the fat guy running with blood streaming down his leg, but otherwise pretty unremarkable.  Two minutes slower than the last time, but I did take time to fall, after all.  I showered and got to work.
Leg was a bit stiff for the rest of the day, but I planned on riding in the next morning.
Then I actually woke up the next morning… knee was incredibly sore to walk on and the opposite hip was killing me.  I hopped into the car and drove to work…
…since then, it's been a struggle… I haven't been able to sit at my drawing desk for more than 5-10 minutes without the knee screaming.  The top of the tib has been very painful to the touch… so I have been resting it… a lot.  Ice, elevation and compression.  Exercise has come to a halt…
Saturday I thought I'd be able to go for a run…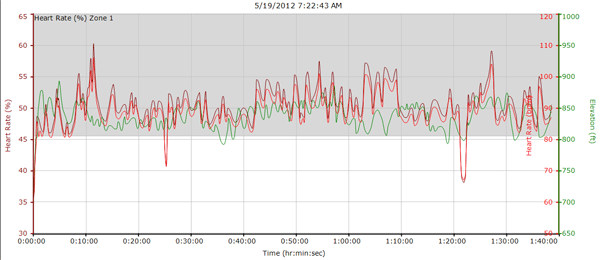 … I could not.  It still felt a bit razor-bladey when I tried to run… but not being one to quit, I walked.  I felt pretty good, so I put in five miles.  That was fine, but then I went out with the girls wearing the wrong shoes (more on that tomorrow), and then prom in those god-awful shiny shoes… all that standing and walking in non-approved shoes, and my knee was not happy, so I've been babying it.
Injuries suck.
So, I feel bloated, and out of shape, so I didn't even think of stepping on the scale.  I'm going to try an easy run on the way to work tomorrow and see how it goes.  The tib feels fine.  There's some lig or tendon tightness on the inside and behind the knee, but nothing to worry about, I think… I'll let you know how it goes… In the mean time, I hope you enjoyed the Giant-Size Saggy strip.