#4 – The Thinker
on
September 23, 2010
at
10:25 pm
Yes, I know… it's not really a chest spreader; it's a thoracic retractor… but that's such an ominous name, and chest spreader paints such a vivid picture. No guessing what that beast is for. We're going to cut you open, jam this in and crank it open until we can reach the goodies inside. When you get down to it, this is the choice I'm facing. There's not a lot of illusions when it comes to being morbidly obese. Fix it or face the consequences. There is no gray area.
So yeah… I woke up in time to do my exercising today. I've given up on my quest to find a new pair of hiking sandals that will actually fit my feet. The Keen's were a disaster. My feet ended up very, very bloody after a single day's walk. The Alpine Ridge were comfortable, but ripped after only two days! REI doesn't seem to carry Ahnu sandals anymore, so I'm not sure what I'm going to do. I'm told Sketchers makes a wide sandal, but I'd have to find a place that carries them so that I can try them on. For now, I picked up a pair of New Balance 927 Ultimate Walkers in 12 6E. I normally wear 4Es, but New Balance shoes seem to run narrow. The 4Es were definitely too tight, but the 6Es are nice. I'll probably pick up a new pair of Brooks Addiction Walkers at some point as well. Of course, this time of year, I need to start thinking about something to wear in the winter. I don't mind the snow, but we get lots and LOTS of ice here in Southeast Michigan, and with the tennis shoes, I do get awfully tired of falling on my arse every fifteen minutes or so. I really need to find something with some kind of winter traction that is also available in wide sizes. So far, I can only find traction but narrow or wide but slickery. It's a tad frustrating. Any suggestions are appreciated.
In any case, let's run the numbers…
Food Intake:
Breakfast – Fruit Smoothie – 355 calories
Leftover Tuna and 28 Habanero BBQ almonds – 400 calories
Yoplait Lemon Delight Yogurt Parfait – 100 calories
T-bone Steak (trimmed), mashed potatoes, mushroom/onions, peas – 800 calories
Garlic Pita Chips – 280 calories
1935 calories total.
This is certainly closer to the planned 2000 calories, but only because I opted to down the 2 ounces of garlic chips to bring the totals up and ensure I wouldn't start the day with hunger pains. I'm beginning to get fed up with the notion of trying to reach a caloric target. I said yesterday that I wanted to be careful not to under eat as that can lead to binging, but I also don't want be eating a snack that I really don't want. I'll have to play it by ear a bit. I do allow one "free eating" day a week to take care of all those cravings and to give the metabolism a kick. It's a Body-for-Life thing that seems to make sense. I haven't decided if that day will be Saturday or Sunday though. It will depend upon family plans, I suppose.
Exercise: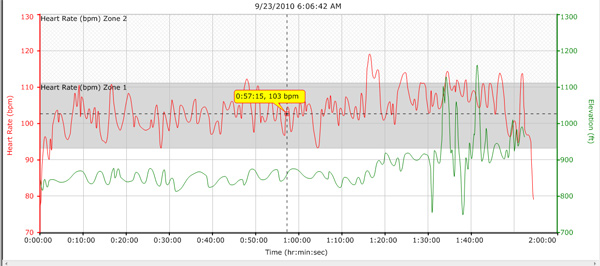 It was an interesting morning. I was actually a bit slower than normal, but not ripping my feet to shreds with ill-fitting sandals made the walk very pleasant. If you look at my heart rate info above, it is not only lower, but a bit more stable than usual. The average rate was 104 bpm which I know sounds terrible, but when I started walking again a few weeks ago, my average heart rate was 123 bpm, so I'm seeing definite improvement. According to the Forerunner, I burned 1158 calories over 4.36 miles.
So that's 1935 calories in, 1158 calories out for a total of +777 calories for the day which is not only a good number, but an awesome aircraft! See you tomorrow.