#5 – It Ain't What It Looks Like…
on
September 24, 2010
at
10:49 pm
The last part of my morning walk involves cutting directly through the center of campus, so you can't imagine how thrilled I was the moment I realized what was going on and exactly what those sweat marks looked like.  It did explain a lot of curious looks I was getting though… I guess I need to switch to darker shorts and/or jeans.  It was ridiculously hot and humid when I left the house this morning though.  Six in the morning and already uncomfortably thick air is never a good sign.  It has cooled down remarkably since evening rolled in, however.
Let's run the numbers:
Food Intake:
Breakfast – Fruit Smoothie – 355 calories
Lunch – Fried Chicken (sadly peeled) and Yoplait Lemon Delight- 520 calories
Snack – Blue Diamond Almonds (only 20 Habanero BBQ though as I ran out, so I had 8 Wasabi Soy as well… yum) – 170 calories
Wise Guys Italian Beef Sandwich – large, wet, hot peppers, no cheese – 600 calories
Wunder Bar – 340 calories
1985 calories total.
Wasn't I saying something yesterday about being tired of trying to hit a 2000 calorie mark when I didn't feel like eating that much?  Go figure.  In any case, you'll notice that I had fried chicken for a third time today.  Laurie brought it home from work for my lunch which was sweet, although not the best dieting food choice, obviously.  I did peel the skin and breading off which always leaves me feeling a bit sad, but you have to do what you have to do… and chicken is probably my favorite food on the planet, so it's okay.  Even when peeled naked.  Those 100 calorie yogurt parfaits are surprisingly good.  As per the almond thing, I pick them up on sale and store them in my office.  They are the only nut classified as a superfood, so I keep them around for healthy snacking.
Dinner was all about Chicagoland!  This may just be the result of growing up in Northwestern Indiana, but I find it hard to believe that people are able to function in an area where you can't buy a decent Italian Beef sandwich.  Well, you couldn't… you can now, though thanks to the opening of The Wise Guys.  If you're in A2 and need an italian beef fix, I can't recommend these guys highly enough!  Aside from the fact that a hoagie roll has as many calories as any other form of bread, the sandwich is actually a fairly reasonable food option (as long as you keep it traditional and avoid adding cheese or mayonaise).   The Wunder Bar was not a good diet choice, but it wasn't for me.  Laurie bought it for her dessert, but noticed that it had dark chocolate (yes… I married someone who doesn't like dark chocolate… it takes all kinds, I guess), so she passed it on to me.  I added my tally for the day and realized that I could fit it in and still hit target, so I enjoyed dessert.  OH. MY. GOD.  Take a look at the images below.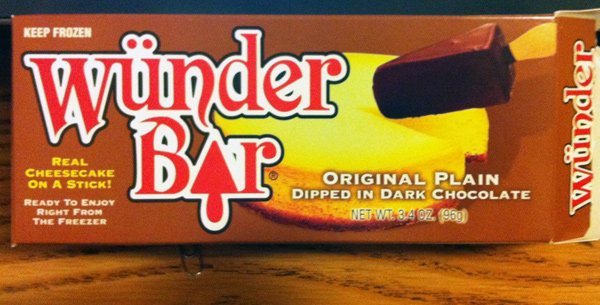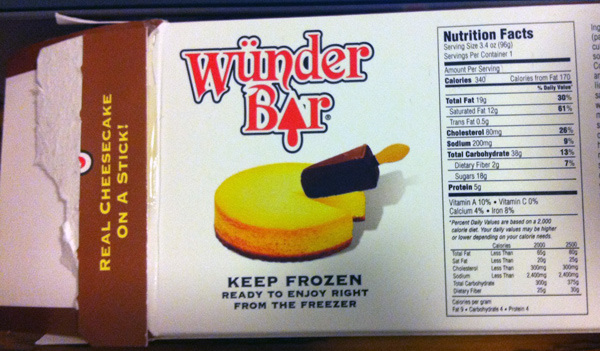 Yes, folks… that thing really is a slice of cheesecake on a stick, dipped in chocolate and frozen.  Fabulous.  But not the sort of thing you would want to eat regularly.  340 calories which is a meal in and of itself.  170 of which comes from the 19 grams of fat — 12 of which are saturated fat.  Not heart healthy… but tasty.  Very tasty.
Reviewing the menus for the week, I'm doing fine on meats, fruits and dairy, but I really need to slide in a few more vegetables.  A few carrots or celery with lunch.  Something green with every dinner.  I take a multivitamin, but real veggies are still needed.
Exercise: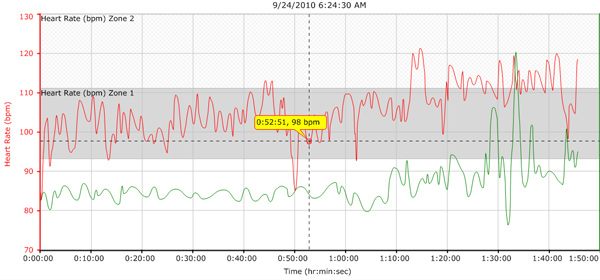 Interesting chart for today.  Can you find the point midway through where I was stuck waiting for traffic before I could cross the bloody street?!?  I just walked to work as we had planned on going to the Wise Guys after work.  Aside from the sweaty shorts issue, there were no problems.  Warm, but a nice walk.  I left about 30 minutes later than usual, so I encountered a lot more people on the way.  According to Garmin, I burned 1151 calories today.
So that's 1985 calories input – 1151 calories output for a total of +834 calories for the day.  I'll take it.