#67 – Now With Product Placement…
on
July 25, 2011
at
10:04 pm
Business first, if it's not obvious, I did NOT draw the shirt image.  This tale revolves around a Schlock Mercenary shirt (this one), and far be it from me to mess up his graphic.  I just snagged the image.  While in the store, I noticed that the shirt is currently unavailable.  It's a really cool shirt, so y'all ought to nag him to bring it back as well as a few of the other "rules".
Business done, I do, in fact, have quite the collection of shirts that I have never worn as they were not available in my size, and I figured… some day… maybe.  This weekend I was getting ready to head out to the art fair, and stumbled across the t-shirt in the closet.  I new it wouldn't fit, but figured… why not?  Wouldn't hurt to see how close I was to fitting in to the thing.  The weird thing was… it fit just fine.  Now, there's some question about whether it was wise to wear a black shirt out on a 96°F day, but there was no way I was going to take that shirt off!  It fit, and I had full intention of rocking that bad boy all day long!
…
…all day, as it happens, was about 5 hours… it was really, really hot out and the perspiration factor became a bit overwhelming…
ewwww….
Regardless, that, my dear friends, is the sort of victory that I can get behind!
Now, let's run the numbers.
Food Intake:
Breakfast – granola – 170 calories
Lunch – Oscar Mayer sandwich pack – 390 calories
Afternoon snack – baby bell, peanut butter bar and a pickle – 265 calories
Dinner – Small root beer, Country-style ribs (boiled to render prior to baking), mac and cheese, and broccoli – 775 calories
Evening snack – The last of my tootsie roll stash! – 130 calories
1900 calories total.  Not bad.  Need more fruits and veggies, but the produce shelves at home are running low, and we need to get to the store.
Exercise: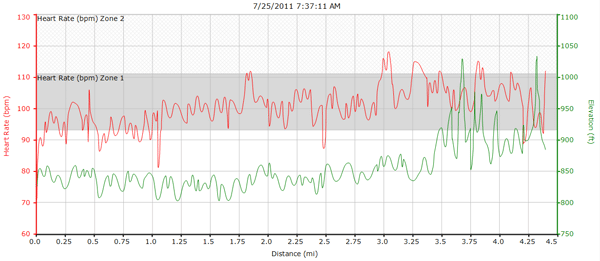 Another day, another chart.  Given my lower weight and reduced resting heart rate figure, it appears that the walk was only worth 1005 calories, but that's good stuff, so we have 1900 in and 1005 out for a total of 895 calories positive for the day.  Not bad.