#77 – A Matter of Urgency…
on
August 31, 2011
at
10:04 pm
Okay, I want to take a moment to say something that may not be clear to everyone.  'No comic today' does not mean 'no diet today'.  Yes, I use this as a diet journal, but sometimes I am just too busy to do a comic, and that is all it means when I miss a day… which seems to be chronic this summer.  Yes, Thursday through Sunday of last week were problematic, but as you saw with Monday's update, when I'm off-diet, I let you know, so if for some reason I don't post, there's no reason to panic… just send time!
In any case, yes, I woke up and decided that a smoothie was a good idea… I had plenty of time as I was up at 4am again… ugh…but as I say, I was up, so why not pull out the blender and see if this is the time my blender finally loses the battle against the frozen fruit.  I mean, smoothies are great… well worth the risk because what's not to love?  The thing has a whole banana, 4 ounces of frozen blueberries, 8 ounces of mixed other fruit (strawberries, mango and peach to be specific), 4 ounces of juice (blueberry in this case) and 4 ounces of skim milk!  Tasty with lots and lots of nutrients and fiber… and water!
…and that water content is key.  I was about two miles into the walk when I decided that a smoothie was, in fact, a bad idea… very bad!  I was a couple miles from the nearest bathroom, but hey, bladder of steel here, so no big worry!  I'll just have to keep that in mind when I make my next smoothie.
Let's run the numbers (the Wednesday numbers that is)..
Food Intake:
Breakfast – smoothie (weren't you listening?) – 350 calories
Morning Snack – Fiber bar – 90 calories
Lunch – Ham and Turkey sammich – 400 calories
Dinner – BW3 Fund raiser – 700 calories
Evening snack – Melon of Water – 250 calories
1790 calories total!  'nuff said about the smoothie… lunch is fairly self-explanatory… dinner… oh yeah… there's that.  Skyline High School was having a fundraiser at BW3, and since Laurie is staff there, we had to attend.  Happily, I had advance notice, and as they say, forewarned is forearmed, so I spent some time on the internet making a plan of attack.  I am feeling remarkably good about my diet this week, and I didn't want to lose any momentum, so I poured over the menu and nutritional guide and decided on the following:
6 Naked Chicken Tenders – now, it's B-dubs, so wings are the order of the day (with Mango Habanero), but choosing wings would have meant my only side option was a salad with what I'm sure would be craptastic dressing.  By opting for the, admittedly sad, naked tenders, I was able to choose a more interesting side.
1 side roasted garlic mushrooms – Don't let the name fool ya, kids.  That's roasted as in roasted garlic.  The shrooms are breaded and fried, but in combo with the nekkid chicken and my usual aqua beverage, I was able to keep the cals at 700.  BW3 also has the decency to fry them properly so they are not greasy.
Next time I'm there, I'll probably opt for the wings and side salad, but that was a good choice for a day of ravenousness.
Exercise: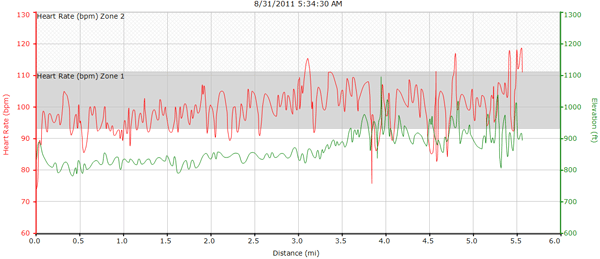 Another day, another walk…  This one was a bit longer as after work, I opted to stroll the mile to the fundraiser (the mushrooms were within my caloric plan, but it doesn't hurt to burn a few extra calories in advance, eh?).  The most notable thing about the morning walk was that when I stepped out the door, it was hot… too hot for 5:30 am… they next few days are going to suck just a little bit…
So, that's 1790 calories in minus 1273 calories out for the walking netting 517 calories plus for the day.  Not bad.