#89 – SLEEEEEEEEP
on
November 3, 2011
at
10:16 am
So… been a couple weeks, hasn't it?  Let me esplain… no… there is too much… let me sum up….
I'm freakin' tired!
So those of you who've followed my various blogs over the years know that I go through the occasional insomniac period, and that I hate them very, very much.  Well, I'm about six weeks into one at the moment, and… I may snap!
I kid…
…mostly.
In any case, it was suggested to me by one of my med school campus cronies that I should step off the diet for a bit and see how that affected my sleep patterns.  (Don't panic, I haven't been off of my diet for two weeks.  I just did a one week trial).  The results?  For the first four days, I slept like a baby.  After that… same old, same old…  I'm not sure what to make of those results, as I did manage to get more that 3-4 hours of sleep in a night, but at a tremendous cost…
I find I don't enjoy eating in "off-diet" style.  It's not that I eat huge meals, but I eat large meals each time, and I don't seem to enjoy the resultant bloated feeling as much as I used to.
I puff up… not in a gain weight sort of way, but in an inflammatory response sort of day.  Not worth it.
I constantly obsess about the amount of calories taken in… a lesson once learned and all that…
So, experiment performed, results unsatisfactory, and I've been back on the diet for a the last week… all is well… but sleepy.
It actually came to a head on Sunday night as I slept exactly zero hours and zero minutes.  Complete and utter lack of sleep.  I actually pressed my eyes closed when Laurie woke up until she left for work so that she wouldn't see that I hadn't slept and worry all day.
…Boy I was fun at work that day though… wooo weee!  I believe the word is delirious (at times) We actually took Karen out to the local vegetarian restaurant (okay… one of several in the area) for her birthday, so it was a pretty low-key day which is good.
On the plus side, I ended up using that time to embroider a lovely Halloween sweatshirt: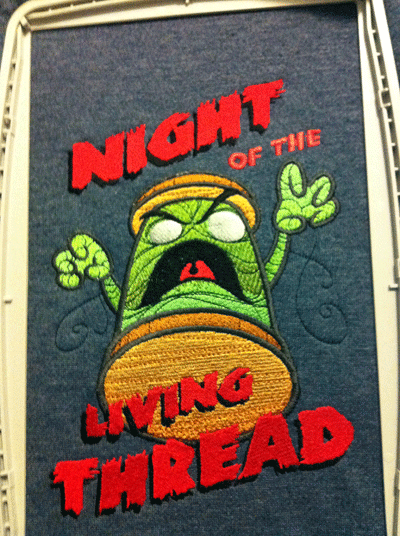 The night of no sleep may have worked out for the best, actually, as I was able to just pass out monday night by 11pm and slept until about 6am.  Tuesday night, I was able to sleep until 4am, so since I was up, I pulled on the hiking shoes and headed in to work, so that was good.
That said, I guess it's time to run the numbers…
Food Intake:
Breakfast – Turkey sausage egg scramble – 230 calories
Morning snack – Yoplait Honey Vanilla greek yogurt – 150 calories
Lunch – roast chicken breast, grapes, carrots, pretzels and a bit of cheddar – 350 calories
Afternoon snack – 1 bite-size Heath bar – 78 calories
Dinner – Pork Chile Verde Stoup – 800 calories
Evening snack – Fudgicle – 100 calories
1708 calories total.
As per the food, the breakfast was an experiment.  I notice that when I walk, I'm ravenous when I get to work, so I opted for a slightly heavier breakfast coupled with the yogurt upon arrival, and it did a pretty good job of keeping me happy until lunch.  The weird thing about the yogurt though… there's no honey in Yoplait's honey yogurt!!  I mean… what is that all about?!?  Madness.
Dinner was good.  I made a basic chile verde with an unused pork loin half (we buy they loins, slice the first half into chops and use the second for something else… much cheaper and tastier than buying chops).  I've never made chile verde before, but started with a Triple-D recipe for a verde sauce prep and modified the heck out of it to produce a stoup.  I actually think my dinner was only 5-600 calories, but am calling it 800 for safety.
Exercise: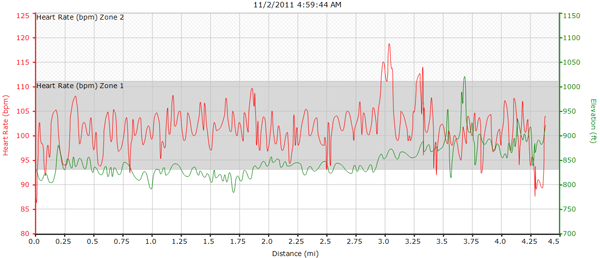 So as I mentioned I had a lovely walk.  A2 is very peaceful at 4:30am… In any case, that finished off about 965 calories for me, so that gives 1780 calories in and 965 calories out for a total of 815 calories for the day which is a goodness.
As per the ticker, I was supposed to update it to 93 pounds lost, but then went of the sleep experiment.  I have no intentions of weighing this Monday, and will hit the scale the next Monday to get a current reading.  Long-term scale amnesty.