on
May 29, 2012
at
1:11 pm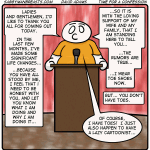 So, yes, always a slave to the latest Un-fashion trends, I have switched over to toe shoes.  I started back in December with a pair of Fila Skele-toes, and well… I've become a bit of a shoe junkie…  I now have:
So there you have it… my footwear are… nonstandard, and I am okay with that.  They have actually been a bit of a Godsend.  I've always had trouble finding shoes that fit, and even when I was just walking, I was always, ALWAYS fighting blisters, sore feet and sore knees.  Now, I haven't had a blister since I started wearing these things, my feet and ankles only complain when I over-work them, and my knees… well, I messed that one up doing squats and then falling on it, but it is what it is.  Life is good in toe shoes, and I hope I never have to go back…
…speaking of going back, I don't run in my toe shoes anymore…
I realize that doesn't make any sense, but I think, due to the sheer mass I am still carrying around, that a minimalist footwear, forefoot strike is still too problematic.  My foot is a spring, but I want to avoid having it… sprung… so now that I can actually where a pair of 12 4E shoes (rather than the problematic 12 6E), I invested in an actual pair of running shoes from New Balance.  They are very… different… cushy…  I'm blister-free so far, but there is some foot pain when I wear them, but I can comfortably heel strike for a bit longer while I drop some additional mass which will allow me to go back to toe shoes while running… or that's my guess, anyway… the New Balance are cheating, and I know the toe shoes will be better for me in the long run, but for now… I can where these…
Speaking of running: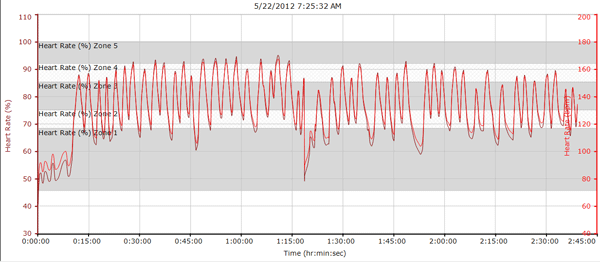 After my walk I showed you last time, I went ahead and ran as planned, it went so well, I ran home as well… that was… tiring.  It felt ridiculously slow, but as you can see above, the second half wasn't too much different than the first.
Of course, Thursday's run…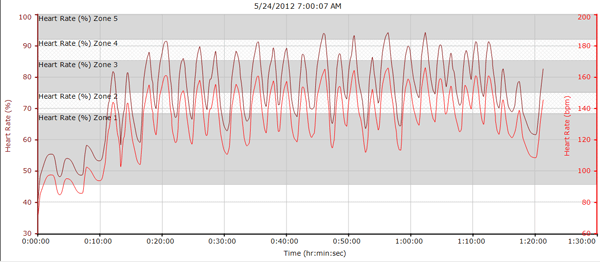 …unbelievably slow… aerobically weak… just bad… it's at times like this, I start to think that I'm never going to improve… of course, then I just told myself that that was fine as I would just focus on setting a new record for running a marathon in intervals – morbidly obese, 1-city block category.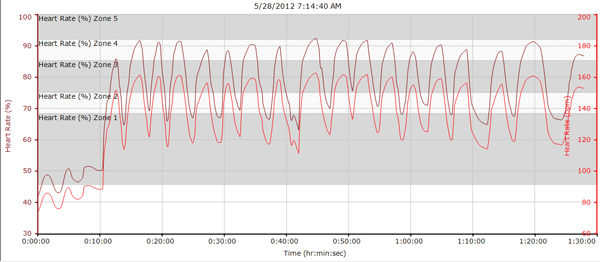 Then yesterday I ran this… the eagle-eyed will notice that there is more peak than valley… instead of alternating running and walking by the city block, I ran 2-3 and walked one for the full five miles!  I actually improved.  I'm still slow, but it's a good step.  We'll see if I can continue, eh?
Also, new ticker…